Bimatoprost hair loss treatment
---
We strive to offer you the latest evidence based treatments. My hair growth was founded by Dr Tom Walker, the original founder of Mylash. Mylash used bimatoprost based treatments to grow eyelashes longer, thicker and darker. Following the success of Mylash, Dr Walker brings his experience to treat male and female scalp hair loss. A recent bimatoprost hair loss study has shown that the treatment is effective at promoting hair regrowth.

Professor Randall at the University of Bradford has found that bimatoprost acts independently from androgen regulated growth pathways and offers an extra treatment pathway for hair loss.

Dr Walkers opinion on the paper


Positives
The paper adds to existing evidence for the use of bimatoprost for hair loss.
Human tissue used from men suffering from male pattern baldness.
Hair grew one third more than untreated samples.
Negatives
The lead scientist is paid by the drug manufacturer.
Not done on humans over a substantial period of time.
In summary, I think that it continues to add to the existing evidence that bimatoprost hair loss treatment is effective and, in my opinion, will be the next FDA approved hair loss treatment (the only others being minoxidil and finasteride).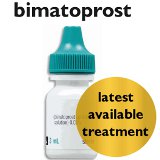 ---